Le "publish or perish", coupable idéal de la fraude scientifique
12
oct.
2016
Toujours à propos de la fraude scientifique, un discours omniprésent ces derniers mois n'a de cesse de m'agacer : le fait de mettre la hausse des cas de fraude sur le dos de la pression à la publication, le fameux "publish or perish".
@fxcoudert par la mise en cause d'un individu dans un système qui encourage la "sexyness" des résultats, exalte l'individualité, la com'.

— Groupe J.-P. Vernant (@Gjpvernant) 10 juillet 2015
researchers looking after "les feux de la rampe/limelight":-) …funding agency are also guilty! https://t.co/wz91mAKLVs

— Fesquet didier (@didierfesquet) 24 septembre 2015
3 areas influencing #researchintegrity: inadequate training, pressure to publish, expectations of journals. https://t.co/LNdhqNqBXZ

— Publication Ethics (@C0PE) 2 août 2016
Et allez, @antoine_petit_ affirme @f_inter que la pression de publication est responsable de ↗ des fraudes. Faux: https://t.co/2GUrMEW8bv

— Antoine Blanchard (@Enroweb) 4 juillet 2016
La pression à la publication est un coupable idéal mais je tiens à rétablir son innocence ! Le raisonnement semble logique : à trop demander des résultats aux chercheurs, on les pousse à s'affranchir des règles de bonne conduite et à plagier, à fabriquer ou falsifier des résultats… Et pourtant, c'est démenti par une étude intitulée on ne peut plus explicitement "Misconduct Policies, Academic Culture and Career Stage, Not Gender or Pressures to Publish, Affect Scientific Integrity". Ses auteurs ne sont pas des inconnus : l'un, Vincent Larivière, est spécialiste de scientométrie (l'étude de la dynamique scientifique à partir des publications) ; l'autre, Daniele Fanelli, de méta-revues et d'éthique de la recherche.
Qu'ont-ils montré exactement ? Par une étude multifactorielle de 611 articles rétractés (suite à une fraude) et 2226 articles ayant fait l'objet d'un erratum (suite à une erreur honnête) en 2010-2011, ils ont corrélé la probabilité des premiers et derniers auteurs de frauder ou d'être intègre respectivement, avec des facteurs de risque psychologiques, sociologiques et structurels :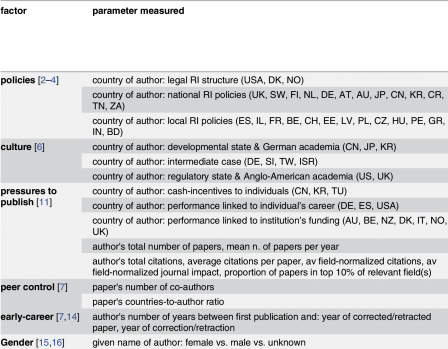 Ils concluent que le sexe des auteurs n'est pas statistiquement significatif, que la fraude a plus de risque de se produire dans les pays qui n'ont pas de code de conduite, où la critique des pairs l'emporte sur le respect de l'autorité, où la performance est rétribuée financièrement, et au début de la carrière des chercheurs. La probabilité de frauder étant plus faible dans les pays où la performance de publication détermine l'évolution de carrière et le financement de la recherche, ils concluent que the widespread belief that pressures to publish are a major driver of misconduct was largely contradicted: high-impact and productive researchers, and those working in countries in which pressures to publish are believed to be higher, are less-likely to produce retracted papers, and more likely to correct them.
Les mêmes auteurs ont remis le couvert il y a quelques mois en montrant que le taux de publication individuel des chercheurs n'avait pas augmenté depuis un siècle. Ce qui a augmenté c'est le nombre d'article en collaboration, mais quand on compte chaque article comme une fraction du nombre d'auteurs de l'article alors l'effet disparaît. Par conséquent : the widespread belief that pressures to publish are causing the scientific literature to be flooded with salami-sliced, trivial, incomplete, duplicated, plagiarized and false results is likely to be incorrect or at least exaggerated.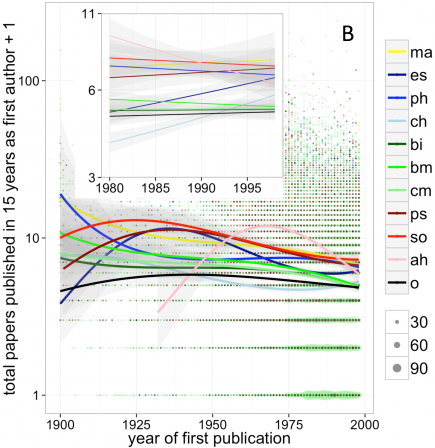 Je n'ai pas encore trouvé d'explication à la propagation de ce mythe, à part qu'il permet de blâmer les agences de financement et la culture de l'évaluation à tout va, dont beaucoup de chercheurs se passeraient bien volontiers…